GAME:  #961 Phillies @ #962 Braves
DATE:    8/21/2020 – 7:15 pm EST
ODDS:  Phillies +100 / Braves -110
O/U:       8.5
The Atlanta Braves (14-11) host the Philadelphia Phillies (9-12) at Suntrust Park. The Braves are coming off a 2 game series split against the Nationals and the Phillies have lost 3 straight including 2 to Toronto in a double-header on Thursday. The Phillies have Aaron Nola on the mound and the Braves have Max Fried starting game 1. 
WEATHER (baseball-weather.com)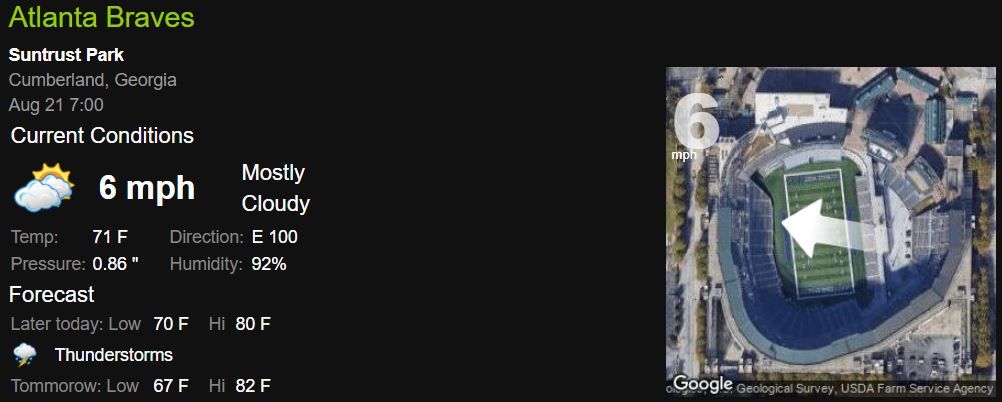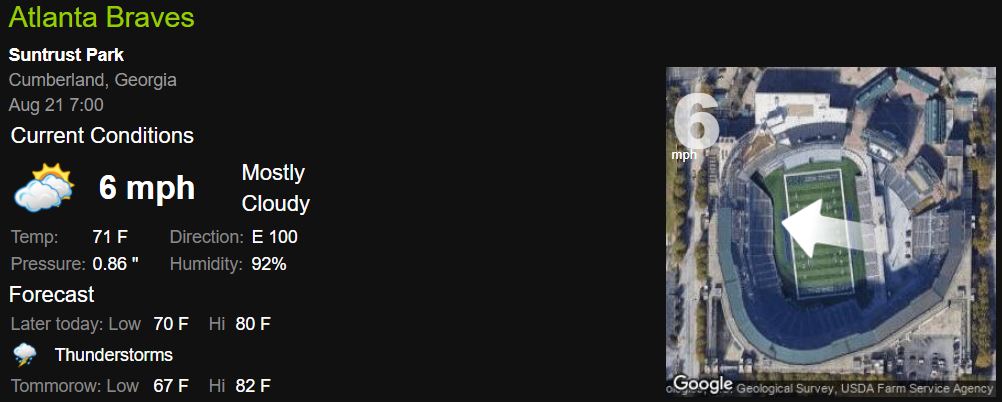 PHILADELPHIA PHILLIES
The Phillies have righty ace Aaron Nola starting this first game of the series. Nola is 2-1 with a 2.05 ERA and a 0.65 WHIP. Nola has pitched in 26.1 innings and has given up 13 hits, 6 runs, 3 home runs, 4 walks, and 37 strikeouts.  The Phillies have a career batting average of .250 against Fried with Kingery, Realmuto, and Harper all hitting over .300 which will make this a tough game for Fried. 
ATLANTA BRAVES
The Braves have lefty Max Fried starting and he is 3-0 with 1.24 ERA and a 0.90 WHIP. Fried has pitched in 29 innings and has given up 17 hits, 4 runs, 9 walks, and 28 strikeouts. The Braves have a career batting average of .224 against Nola with Austin Riley leading the way with a .273 and 2 home runs. 
BATTER VS PITCHER  (dailybaseballdata.com)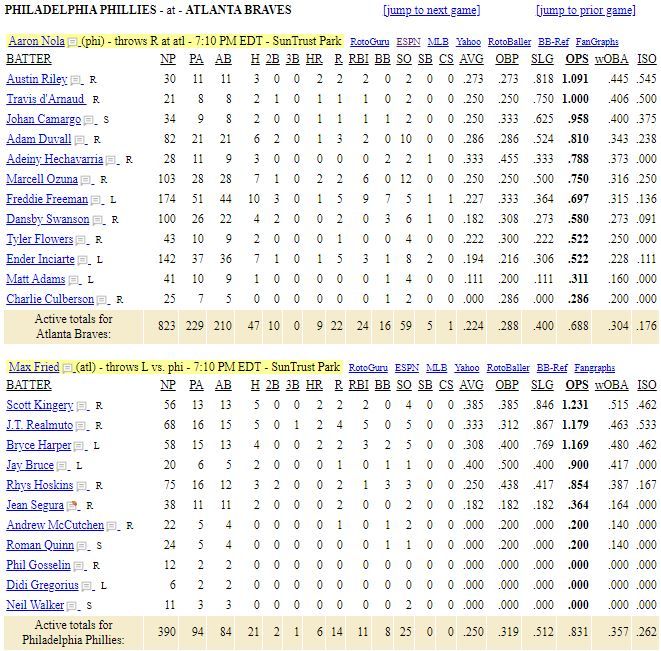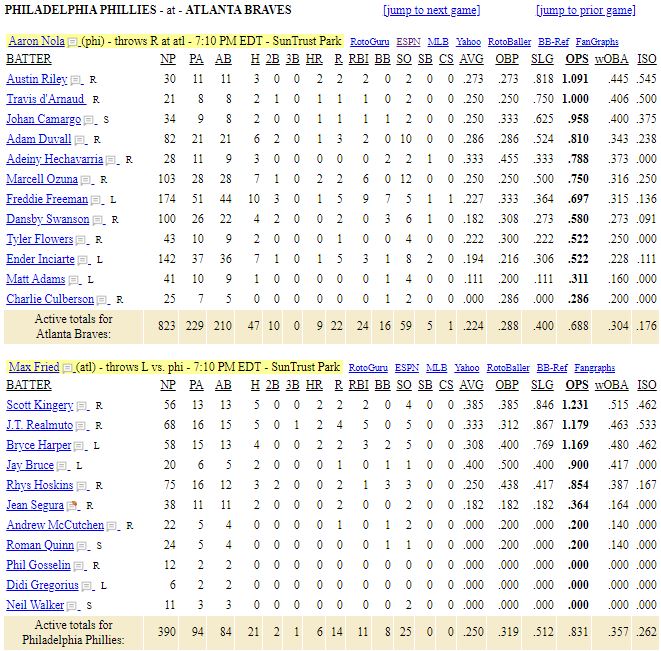 STARTING LINEUPS (baseballpress.com)
Starting Lineups not released yet.
INJURY REPORT (covers.com)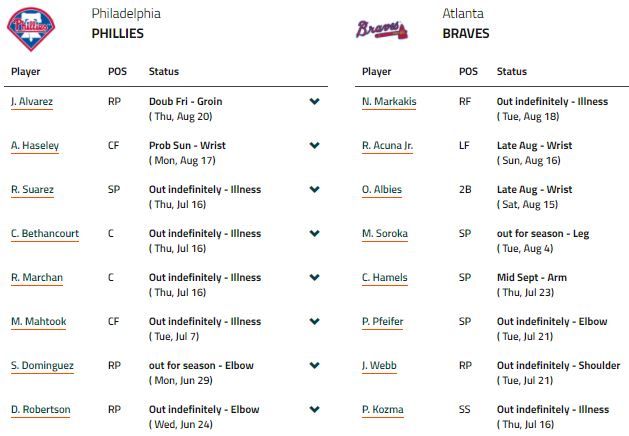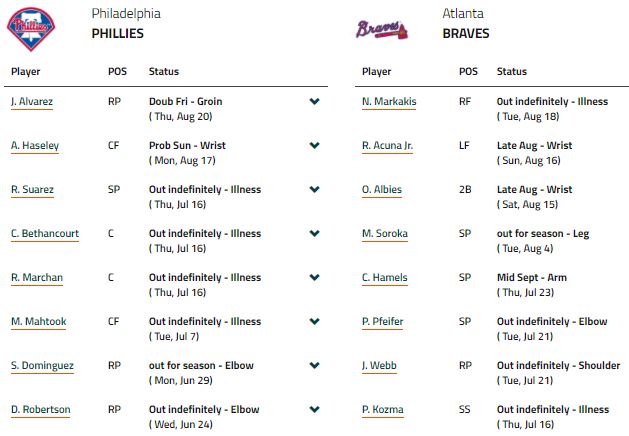 TRENDS (covers.com)
PHILLIES
Phillies are 4-0 in their last 4 vs. National League East.

Phillies are 0-4 in Nolas last 4 road starts.
BRAVES
Over is 4-0 in Fried's last 4 Friday starts.

Over is 4-0 in Braves last 4 vs. a team with a losing record.
HEAD TO HEAD
Phillies are 4-10 in the last 14 meetings in Atlanta.
PHILLIES vs BRAVES PREDICTION
The Phillies have lost 3 games in a row which will provide the motivation to show up to win. The Braves are still struggling without Albies, Acuna Jr, and Markakis. When Bryce Harper and Realmuto are hitting, the Phillies are usually winning. With Harper and Realmuto combined with 4 home runs against Friend, we can expect him to get dinged up a few times. Both of the bullpens are not very good but the better starting pitcher is without a doubt Aaron Nola. The Bookie is rolling with the Phillies, the public is pounding the Braves, and the Sharps are all over the Phillies.  
The Bookie:         Phillies
Fade the Public: Phillies
Sharp Action:      Phillies
2 Units to win 2 Units on:  (#961) Phillies +100
BONUS ACTION
8:15 pm EST
(#969) Cincinnati Reds -105
2.1 Units to win 2 Units
Philadelphia Phillies vs Atlanta Braves – MLB Prediction