Kutt Social Betting – Put Your Money Where Your Mouth Is
Tired of giving your money to DraftKings, FanDuel, or some sketchy offshore app? Want to bet against your friends and other fans, but don't have a mechanism to handle payment? Annoyed that you can't bet directly against that annoying guy you always see running his mouth on Twitter?
Us too.
And that's exactly why we built Kutt – a peer-to-peer social betting app that allows friends and strangers to bet directly against each other on the outcome of sports, politics, pop culture, and other events…the ultimate "put-your-money-where-your-mouth-is" platform that also acts as a social network. 
Social betting means that you're always betting against another human being, unlike a traditional sportsbook where you're betting against a corporation ("The House"). We're the OG social betting app and think that social betting is a more fun way to bet…we'd much rather compete against our friends or rival fans than some faceless, greedy corporation. Think about it; you're already betting your buddies in group chats, competing in fantasy football groups, and bantering on Twitter…now you can do all of that within one app! 
Kutt has a ton of fun social features that make betting more fun and engaging: user profiles, chat, leaderboards, fan groups, and more! You can bet directly against your friends or total strangers. And we take care of the payment side of things so that no one can flake on paying up for bets they lose. That's right. Next time you see someone talking smack about your team on Twitter, tell them to "put your money where your mouth is" on Kutt. And rest assured that any bet made on our app will be paid out immediately after the event finishes.
For sports specifically, Kutt offers much better odds/payouts than traditional books (-110 is just robbery!) and also allows you to create your own terms if you don't like the ones we put up. We also offer bets on politics, pop culture, finance, and basically anything with a verifiable outcome! Hello 2024 Presidential Election! 🙂 
We're venture-backed, US-based, and legal in more states than traditional sportsbooks. Due to our P2P and social features, Kutt is legally considered to be a game of skill and is fine to use in all 50 states; however, the following states frown upon participation in real-money sports competitions as of this time: AZ, AR, CO, IA, LA, MD, MI, MT, NV, SD, SC, TN, and WA (we have to tell you this for legal purposes; availability is subject to change). 
You can see some other frequently asked questions here, and can also check out an in-depth interview we did a few weeks ago on how Kutt fits into the overall betting industry.
Most importantly, you can DOWNLOAD THE APP USING THIS LINK. Hope to see you soon on Kutt!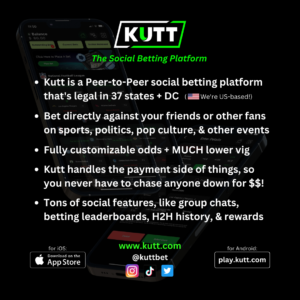 Kutt – A Better Way To Bet