GAME:  #965 Rockies @ #966 Rangers
DATE:    7/24/2020 – 8:05p EST
ODDS:   Rockies +105 / Rangers-115
O/U:       9
The Colorado Rockies head to Globe Life Park for an interleague match up against the TEXAS RANGERS. The Rockies have righty German Marquez for their opening day pitcher while the Texas Rangers have righty Lance Lynn on the bump on opening day in their new stadium. Weather is not a factor as they have a retractable roof. These teams met back in 2018 where the Rangers took 2 out of 3 games in Texas. 
German Marquez had a 4.76 ERA last season with 12 wins and 5 losses. Marquez has only faced a few of the Rangers players in the past so he will have a fresh look to start the season. However the Rockies have had plenty of experience against the Rangers' Lynn. Daniel Murphy crushes Lynn with a batting average of .400 over 20 at-bats. Charlie Blackmon has a .385 average and Nolan Arenado has a .222 average. Look for these 3 bruisers to do some damage against Lynn today.  In their final exhibition game Blackmon and Murphy both homered so they should be ready to swing their bats. 
TEXAS RANGERS
Lance Lynn had an ERA of 3.67 last season while going 16-11. Lynn has struggled in the past against the Rockies players so he will have a tough challenge on opening day. The Rangers have good offensive production coming from Shin-Soo Choo who hit .265 last season as well as Adrus with a .275, Calhoun with a .269, and Santana with a .283. 
BATTER VS PITCHER dailybaseballdata.com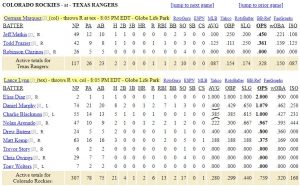 STARTING LINEUPS baseballpress.com
The starting lineups are unavailable at this time but you will want to check them 2-4 hours before game time before placing final wagers to ensure the right players are playing.  You don't want to have a Juan Soto situation. 
INJURY REPORT(covers.com)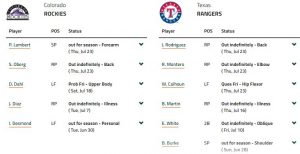 TRENDS(covers.com)
COLORADO
Over is 5-0 in Marquez's last 5 starts as a road underdog.

Over is 5-0 in Marquez's last 5 starts during game 1 of a series.

Over is 5-0 in Rockies last 5 interleague games vs. a right-handed starter.

Over is 4-0 in Rockies last 4 interleague road games.

Over is 6-0 in Marquez's last 6 interleague starts.
TEXAS
Under is 4-0 in Lynn's last 4 starts during game 1 of a series.

Under is 5-0 in Lynn's last 5 home starts.

Under is 5-0 in Lynn's last 5 home starts with the total set at 9.0-10.5.

Rangers are 0-5 in Lynn's last 5 starts as a favorite.

Under is 15-2 in Lynn's last 17 starts with the total set at 9.0-10.5.
HEAD TO HEAD
The Rockies are 2-7 in the last 9 meetings.
ROCKIES vs RANGERS PREDICTION
The Rockies have a team that can hit the ball. They have a good track record against Lynn and The Bookie expects that to continue on the first game of the season.  These teams both finished in different directions in the final exhibition games which could be a sign of what's to come. The Rockies looked like they were ready to get off to a hot start and today will be a good test to find out. 
The Bookie is taking the Colorado Rockies in this one based on their recent performance and past batting history against Lance Lynn combined with the Rangers pitching staff is a contact pitching style so you won't see a lot of strikeouts. The ball will be in the Rockies court for the taking in this one. The public is split on this match with money coming in on both sides however the line is changing quickly for the Rockies as the Sharps are pounding them.  This is a good spot for the over as well but we are sticking to the moneyline. 
The Bookie:        Rockies +105
Fade the Public:  no data
Sharp Action:       Rockies +105 
1  Unit(s) to win 1.05 Unit(s) on:  (#965)Colorado Rockies  +105 Listed Pitchers
Colorado Rockies vs Texas Rangers – MLB Baseball pick